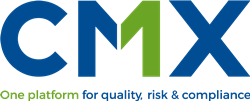 CMX and Captain D's to Present at North American Food Safety and Quality Conference 2022
"Under Mark's experienced leadership, Captain D's has remained true to its commitment to providing premium quality seafood and fish from the best sources, using technology and automation as a lever, scale and consistent quality." — Keith Cole, Vice President of CMX at Sales and Business Development

CHICAGO (PRWEB)
September 20, 2022
CMXa leading provider of cloud-based enterprise quality and risk management (EQMS) software, today announced that it will partner with Captain Dthe nation's leading fast-casual seafood restaurant brand and a key CMX customer, to be showcased at the 2022 North American Food Safety and Quality Conference (NAFS22), September 27 and 28, 2022.
Captain D's Vice President of Quality Assurance, Mark Earnest, will be joined by CMX's Vice President of Sales and Business Development, Keith Cole, to deliver the presentation entitled "Creating a Culture of Quality and food safety throughout your supply chain". It will take place on September 27 at 11:40 a.m. in room 2 of the Westin Chicago North Shore.
"Under Mark's experienced leadership, Captain D's has remained true to its commitment to providing premium quality seafood and fish from the best sources, using technology and automation as a lever, scale and consistent quality," said Cole. "I look forward to teaming up with him to discuss how they have transformed their quality and food safety programs by leveraging automation, setting clear expectations and improving collaboration with their channel partners. procurement using the CMX1 platform."
Based in Nashville, Tennessee, Captain D's has more than 540 restaurants in 23 states. It was named the #1 seafood chain in QSR 50, ranked by AUV. Founded in 1969, Captain D's has been offering customers high quality seafood at reasonable prices in a cozy atmosphere for over 53 years.
Earnest has worked in the food safety industry for over 30 years and, in addition to Captain D's, has held positions with the United States Department of Agriculture, Nashville Davidson County Health Department, and other organizations. He joined Captain D's in 2012.
The session will cover:

An overview of Captain D's, its quality and safety programs and its global supply chain strategy

Captain D's journey to automating supplier onboarding, training, certification and ongoing quality control

How Captain D's Embraced Digital Transformation for Product Lifecycle Management, Product Reviews, Incidents, and Recall Management

ROI and the impact of digital on the company

Future plans for digital transformation
For those unable to attend the workshop, CMX will be sharing updates and takeaways on its social channels and Blog during and after the event.
Taking place September 27-28 in the Chicago area, NAFS brings together the "who's who" of food safety, quality and compliance leaders from around the world. CMX is a sponsor of the 2022 event. To register for the conference, go to here.
About CMX

Leading brands such as Burger King, Outback, Arby's, Captain D's, Taco Bell, Pizza Hut, Sonic Drive-In, Raley's Supermarkets and Hasbro rely on CMX1 Enterprise Quality and Risk Management Software (EQMS) based on the CMX cloud to help them achieve and maintain Operational Excellence and Quality. For over a decade, CMX has led the market with the most comprehensive and user-friendly cloud-based EQMS platform for food and consumer brands. It is the only enterprise solution to effectively combine supply chain quality and operational excellence in a single, fully configurable operating platform. For more information, please visit http://www.cmx1.com or call 1-858-866-8888.
Share the article on social networks or by e-mail: