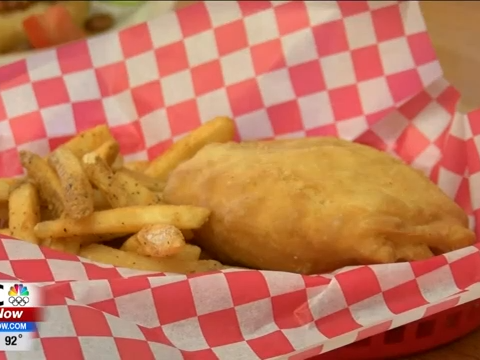 Native American Restaurant Opens in Toppenish | New
Toppenish, WA – A Native American restaurant is now open in Toppenish. A&B Native American Cuisine serves everything from Native American tacos to fried bread and other traditional native recipes.
The A&B kitchen started out as a food truck two years ago and the building they are in now kind of fell into the hands of the owner. The woman who owns the building contacted them after hearing about their food truck and asked if they wanted to rent the space. She had two other people interested, but wanted a Native American restaurant to open in the area.
Now co-owners Travis Bob and Andrea Moore are getting ready for their Grand Opening Pow Wow tomorrow.
"Bless. It is such a blessing. Customers really pushed us and trusted us and supported us all the time for all these years, "they said.
Travis Bob said it was his dream to start selling food and when he lost his job his finances supported him through it all. They started with a few coolers and a tent.
"Wwhatever throws at us, we have overcome it. We always strive, no matter what bump comes up, we take it and keep going, "Bob said.
Now they are grateful that they were able to open a restaurant and have more regular hours.
"I can't explain it, it's just super exciting, the word is spreading about the quality of the food and consistency is our thing. We always want to stay the same with the quality of the food, "said Bob.
Now that Bob has made his dream come true, he wants to help others. Bob has a criminal record and knows how difficult it is to find a job with one. For a while, after his release from prison, he worked at Wendy's. He worked hard, but because of his criminal record, he was told he could not be promoted. Bob wants to help people in similar situations and homeless people.
"We can hire other people and give them a second chance and you know times are tough and we have people coming here and with that kind of support we are able to pay others so they can take care of their families, so we're blessed with that too, "said Bob.
A&B Native American Cuisine is open from 12 p.m. to 8 p.m. Monday through Friday and is located at 208 S Toppenish Ave.
Their grand opening powwow will begin at 1:30 p.m. in front of the restaurant. Black Log Singers and traditional dancers will attend the Pow Wow. You can also expect some of their traditional Native American dishes.