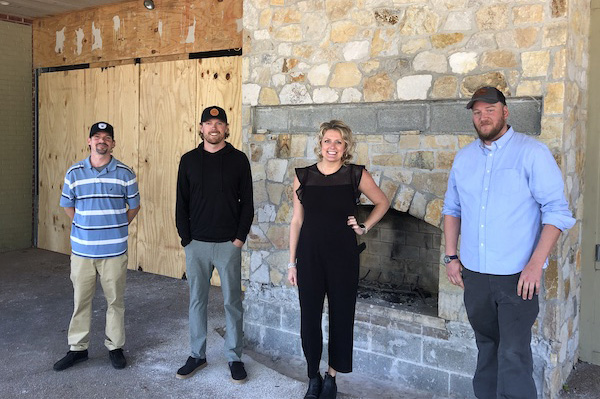 The old Caturra on Grove will become the South American restaurant Cocodrilo
A team from the local restaurant industry whose list of Lemaire, Shagbark and River City Roll resumes is bringing a vacant West End location to life with a new concept.
Brandon MacConnell, Tara Schleinkofer, Brad Slemaker and Rob Long prepare to open a restaurant with a South American themed menu in the former Caturra on Grove space at 5811 Grove Ave.
The new spot will be called Cocodrilo, which means crocodile in Spanish.
After Caturra on Grove closed last summer after 13 years, Long said the team has started to come together.
"It's rare that you can get a space with such visibility," Long said. "It was not the perfect time to talk about a new restaurant. But when you have a place like this, you kind of make it work. "
MacConnell was most recently the Chef de Cuisine at Shagbark and Schleinkofer was previously Deputy General Manager and Bar Manager at Lemaire. Long owns River City Roll, where Slemaker is the executive chef.
Long, Slemaker and MacConnell merged as co-owners of the new restaurant and contacted Schleinkofer to manage the front of the house. MacConnell, Schleinkofer and Slemaker had known each other from their years working at Lemaire.
"Brad, Brandon and I started talking," Long said. "As soon as it struck them as intriguing, they knew Tara was the person they knew they wanted in the front of the house."
Slemaker added: "We've known each other for about nine years. We have always been friends and have stayed in touch ever since.
Cocodrilo will serve breakfast, lunch and dinner, and will include both coffee and liquor bars. Instead of focusing on food from a specific country, Cocodrilo will serve flavors from all over South America.
"Our primary focus will be on the smaller, shared plates," MacConnell said. "I hate the word fusion and all that stuff, but (they'll be) interpretations of what we love to do with the same quality of food we've been cooking for a long time."
"We'll have cocktails on tap and frozen margaritas. Hopefully we will finally have a happy hour, "said Schleinkofer, adding that they will have a great selection of tequila and mezcal.
A few of the dishes on offer at Cocodrilo will be lobster enchiladas, breakfast tacos and chipotle steak fries.
The food will be cooked on an open flame grill they bought at Prime 109, a Charlottesville steakhouse that closed last year.
As cooking over open flames gains popularity in restaurants across the country, MacConnell said they are generally expensive and Cocodrilo's will be personalized.
"The open fire is going to be huge, that's an exciting part of it. We're going to modernize a bit so that we can cook tortillas over the open fire, which is nice as opposed to a gas dish, "he said.
"With the kitchen open, you'll just walk in and see the fire," Slemaker added.
Cocodrilo is leasing the 3,300 square foot space and plans to add a 900 square foot outdoor patio in the back.
The space has been totally emptied in recent weeks, and Long said they hope to start construction soon with an opening in August.
Commonwealth Construction Management is the general contractor, PSH + is the project architect and TowneBank is the lender. During lease negotiations, Spotty Robins of JLL represented Cocodrilo and Reilly Marchant of Thalhimer represented the landlord.
In addition to its Spanish translation, Long said that "Cocodrilo" also has an appropriate ancient meaning.
"In the Aztec calendar, the crocodile represents new beginnings and new beginnings," he said. "Caturra Cafe (the longtime past incarnation of Caturra on Grove) has had a very long time, and I think that says a lot about space. We're just going to ride it from there.