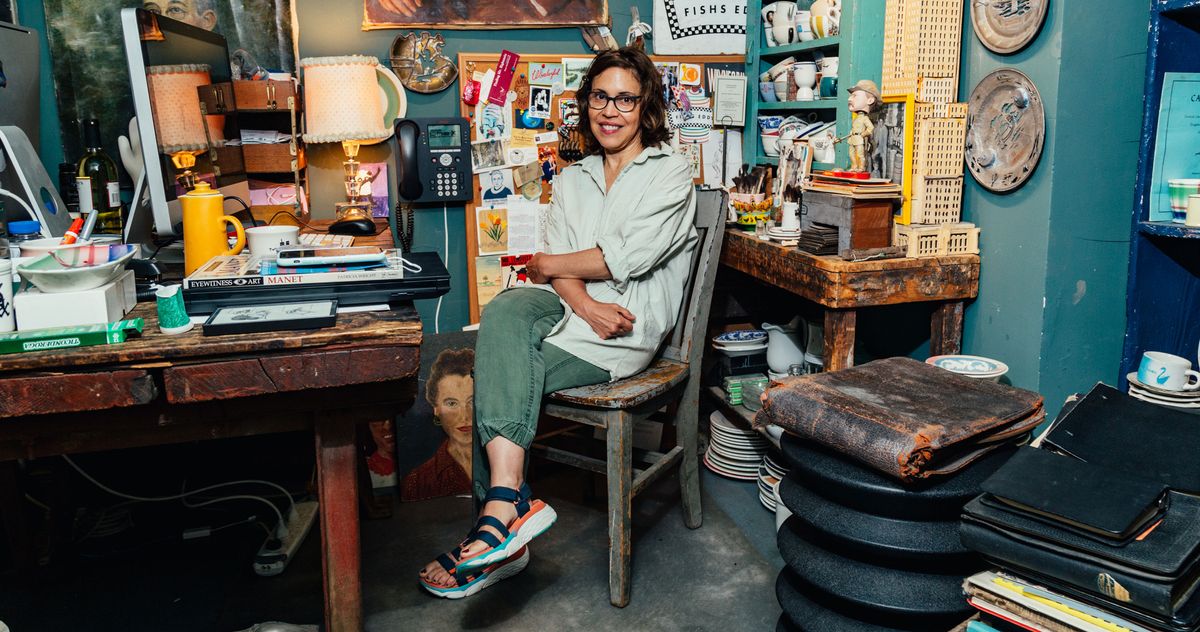 Visit the American Restaurant Museum in China
Julie Gaines in her office: "That's where I put out the fires," she laughs. "It's my seat of anxiety."
Photo: DeSean McClinton-Holland
"There are so many empty display cases," Julie Gaines tells me as we sit in her office above the whirlpool fish boutique on Broadway and 19th Street, retailer of a famously eclectic selection of plates, bowls, trays, glasses, and more. "I was going to open a museum of American restaurant china in a display case." But then his son, Ben Lenovitz, said to him: "Why would you open a museum when you already have one here? You just have to find a way to invite people. On June 3, Gaines opens this private space to those interested in the history of commercial tableware, evoking a lost era of hospitality.
His son (who has a small corner in the shop where he sells his animal portraits, orders accepted) illustrated his 2018 book, keep the store, which tells how she and her ex, Dave, named their retail business after an upstate hamlet they drove through in their blue pickup truck in 1986. Exploring the back roads -country, they also came across a barn full of soot-covered crockery from a nearby manufacturer that had gone out of business. They bought everything and brought it back to town. There they cleaned everything up and put it up for sale; their customers loved it.
During many similar forays over the years, they have discovered an abundance of discarded inventory in restaurants, eateries and hotels. This was before eBay, before TV shows like American Pickers; they detected a part of forgotten Americana. Gaines has also collected portraits of foreign artists since high school, when she visited flea markets. She has plenty of them here in her office and downstairs in the store, none of which are for sale. "They are my audience," she says. "They were probably painted between the 1940s and 1960s, and they were all amateur painters, but they were good."
Fishs Eddy eventually started making their own plates and glasses and the store became a tourist destination. Gaines recently licensed the brand to a Japanese company that will handle retail sales in China and Japan, while West Elm, which already wholesales Fishs Eddy products, will now oversee the brand in the United States, in Australia and Canada. Gaines still manages the Broadway store space, and it will remain as it is, with one big change: she's opening up her personal collection to visitors.
It includes hundreds of sample dishes, molds, color swatches – before Pantone existed – and vintage registers filled with page after page of hand-drawn and colored patterns and notes. "I must have 30 or 40. Those books were my inspiration," Gaines says. "These were people who just went to work and did their job, and as a community they created art."
Even the table we're sitting at is covered in ceramic paint samples under glass. "Dishes are the unspoken hero of restaurants," she says as we turn the pages and watch the end result of a plate near a page where its decoration began like a delicate watercolor in one of the books. "Everything was done with love," she says. "Think how many hands have touched each piece before it hits the table."
"It's an old courtroom table," says Gaines, "which was actually my grandfather's table. He was a lawyer in the 1940s, so this table has seen a lot of decisions. Gaines arranged the batch of colored tiles she salvaged from going to the landfill, by shade, and designed a wooden frame to hold the pieces and ordered a piece of glass to cover the surface.
Photo: DeSean McClinton-Holland
"I found Miss Pearl somewhere in Ohio about 25 years ago; and she wasn't just talking to me, she was mad at me right off the bat," Gaines says with a laugh. "And she still has the same attitude."
Photo: DeSean McClinton-Holland
Some of his favorite plates.
Photo: DeSean McClinton-Holland
Each page of these registers features hand-drawn and colored designs, with detailed notations in exquisite calligraphy.
Photo: DeSean McClinton-Holland
This vintage map shows a manufacturer's customers in the 1950s, with thumbtacks in the cities they sold to.
Photo: DeSean McClinton-Holland
A rainbow of manufacturer's sample dishes. Photo by DeSean McClinton Holland
Photo: DeSean McClinton-Holland
Fishs Eddy has a wholesale line that includes these New York Skyline plates, designed before 9/11.
Photo: DeSean McClinton-Holland
A detail of a hand drawn plate design and the plate it inspired.
Photo: DeSean McClinton-Holland
whirlpool fish, 889 Broadway at 19th Street. The upstairs exhibition will be open Thursdays and Fridays from 4 to 6 p.m. and Saturdays from 1 to 4 p.m. No appointment necessary, but places are limited. Free entry.